Collision Course
The Fed's rate hike plans are on a collision course with the economic cycle. In fact, the Fed is signaling a rate hike this year – if not by September, then by December – clearly expecting a pickup in growth. ECRI's leading indexes suggest the opposite.

Indeed, a service sector slowdown has already joined the manufacturing slowdown that started last fall, and so the slowdown in overall growth is likely to intensify in the coming months. As such, hopes for a "second-half rebound" are likely to be dashed.

At the beginning of the year (USCO Essentials, January 2015) we asked a rhetorical question about rate hike timing: "If not now, when?" This was because – contrary to the consensus that expected economic growth to improve even further as the year progressed – ECRI's leading indexes foresaw a U.S. growth rate cycle (GRC) downturn.

In hindsight it is clear that the GRC peaked at the end of 2014, following which U.S. economic growth has stayed in a cyclical downswing that was exacerbated – but not caused – by a harsh winter and West Coast port strikes in Q1 2015. The Fed sees those events as the reason for disappointing growth. Yet, as the chart shows, this is now a broad slowdown – not a temporary soft patch – with the downturn in U.S. Coincident Services Index growth (top line) joining the downswing in U.S. Coincident Manufacturing Index growth (bottom line).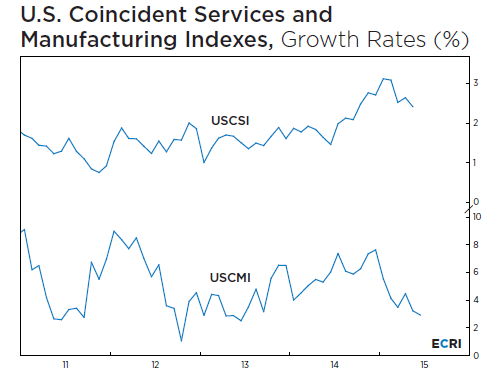 The good news is that, notwithstanding the continued slowdown, ECRI's indexes are not yet pointing to recession. This is a vital distinction.

The economy exhibits relatively regular growth rate cycles, which consist of alternating periods of rising and falling economic growth. Some but not all GRC downturns, which involve progressively less positive growth, can culminate in negative growth, i.e., a recession or "hard landing." Alternatively, when a GRC downturn is followed by a GRC upturn without economic growth turning negative, it is commonly called a "soft landing."

ECRI simultaneously monitors U.S. business cycles and GRCs. The business cycle is about the level of economic activity (rising vs. falling activity). In a manner of speaking, the GRC is determined by its first derivative (rising vs. falling growth in activity).

ECRI's indicators show that the U.S. economy is in a GRC downturn that is poised to persist. The key question is whether there is a significant risk of recession in the context of possible shocks, including those from China, the Fed, or any other source. The answer from our indicators is that, for the time being, the U.S. economic expansion is in a cyclically resilient phase where it is resistant to shocks that could tip the economy into recession.

That can and will change. ECRI's leading indexes are designed to signal when that happens.