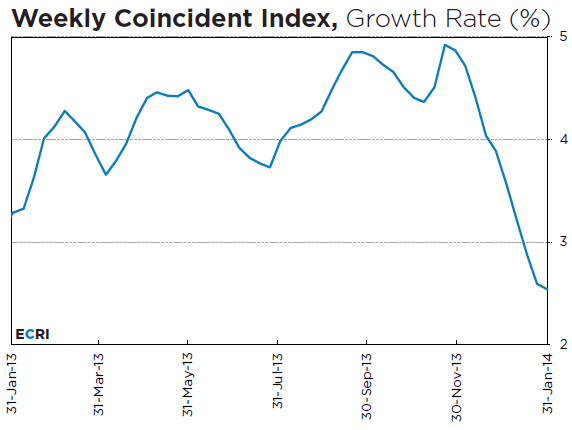 Failure to Launch
As ECRI had predicted, the recent consensus that the economy was "taking off" has turned out to be dead wrong, with U.S. growth falling sharply of late.
ECRI is the world's leading authority on business cycles.
Our state-of-the-art analytical framework is unmatched in its ability to forecast cycle turning points.
Reports
Featured Past Report Summary:
Posted January 22, 2014
ECRI's latest report provides the outlook for U.S. growth, with specific attention to jobs, housing and trade, that reveals the likely cyclical picture in coming months. More
News
Today ECRI is announcing new Chinese growth rate cycle dates, a trough in Dec. 2010, and a peak in Feb. 2012. More
Wall Street Journal
March 7, 2014
According to the Economic Cycle Research Institute, its weekly leading index grew 1.9% in the week ended Feb. 28, up slightly from 1.7% in the previous week. More
"Despite its recent uptick, the USFIG remains below its earlier highs," ECRI Chief Operations Officer Lakshman Achuthan said in a release, "Thus, underlying inflation pressures are still in check." More
Euro zone inflation pressures, while having edged up, remain subdued. More
Featured ECRI Composite Indexes
WLIW
U.S. Weekly Leading Index (weekly)

1.7

Public update:

Mar 07
10:30am

Member update:

Mar 07
9:00am

USFIGM
U.S. Future Inflation Gauge (monthly)

2.0

Public update:

Mar 07
9:40am

Member update:

Mar 07
9:00am

USLHPI
U.S. Leading Home Price Index

1.1

Leads cyclical turns in U.S. real home prices. Historical data begins in 1953.
View the Latest
International Growth
Rate and Business Cycle
Chronologies