A Two-Speed Economy
A whiff of panic is in the air. So much so that, with economic surprise indexes falling to their most negative readings in years, the "R" word has begun to pop up again, with some observers warning of a 1937-like relapse – into a depression, no less.

To put the state of the economy in perspective, Chart 1 presents the growth rate of ECRI's U.S. Coincident Index (USCI), which subsumes the key indicators of output, employment, income and sales used to determine official U.S. recession dates. The chart goes back to 1919, to include not only the 1937-38 depression, but also the 1929-33 one, as well as the less well-known 1920-21 depression. Sure, USCI growth has dipped lately, but this is nothing like its 1937 plunge.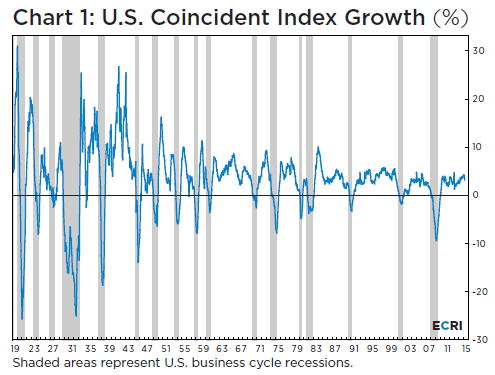 Meanwhile, the consensus view is that the economy is pulling out of an "air pocket," on its way to "escape velocity." Both views are mistaken.

So what's really going on? Chart 2 clues us in.

While growth in ECRI's U.S. Coincident Manufacturing Index (bottom line) has indeed dropped to its worst reading in more than a year, growth in the U.S. Coincident Services Index (top line), despite a small dip, remains near a ten-year high. This means that manufacturing growth is in a cyclical downturn that ECRI saw coming (USCO Essentials, November 2014) – not an unexpected "soft patch." But service sector growth is holding up, following the strength in our service sector leading indexes.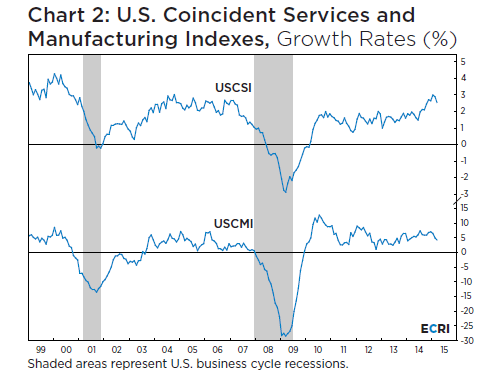 Bottom line, this is no recession, and certainly nothing like a depression. It's a two-speed economy, featuring a clear downturn in manufacturing growth, but not in services. As for where we go from here, we're keeping a close eye on our full array of leading indexes.

So, what about those plunging economic surprise indexes? Having examined their past performance, we concluded years ago that they offered "little guidance about upcoming directional changes in the economy" (USCO, December 2009). What they do show is that even the often-wrong consensus has rarely been so badly blindsided, having been practically euphoric when the year began, after ECRI concluded last fall that popular "hopes that the U.S. economy can decouple from the global slowdown this time around are likely to be dashed" (USCO Essentials, November 2014).