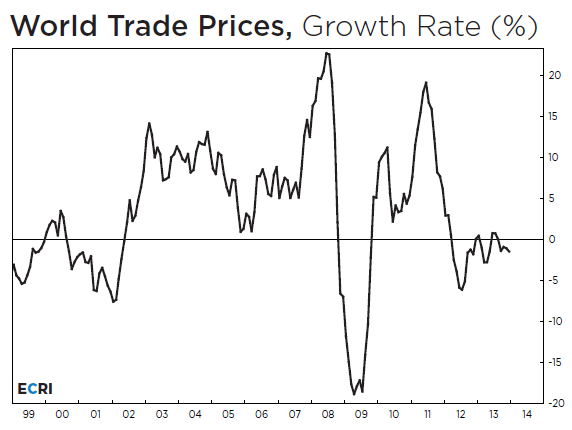 Price Signals of Global Slack
World trade price growth has seen almost continuous deflation since early 2012, and its renewed weakness suggests even more slack in the global economy.
ECRI is the world's leading authority on business cycles.
Our state-of-the-art analytical framework is unmatched in its ability to forecast cycle turning points.
Reports
Featured Past Report Summary:
Posted January 22, 2014
ECRI's latest report provides the outlook for U.S. growth, with specific attention to jobs, housing and trade, that reveals the likely cyclical picture in coming months. More
News
In March, the U.S. Weekly Leading Index growth rate rose to 2.9% from 1.6% in February, but was down from 4.0% in January. More
The index itself increased to 134.9 from 133.5. More
"With the dip in the USFIG pushing it further below its earlier highs, underlying inflation pressures remain restrained" More
Inflationary pressures remain muted in the eurozone, doing little to allay fears about deflation in the 18-nation bloc, an indicator designed to predict cyclical trends showed. More
Featured ECRI Composite Indexes
WLIW
U.S. Weekly Leading Index (weekly)

0.0

Public update:

Apr 17
10:30am

Member update:

Apr 17
9:00am

USFIGM
U.S. Future Inflation Gauge (monthly)

-1.3

Public update:

Apr 04
9:40am

Member update:

Apr 04
9:00am

USLHPI
U.S. Leading Home Price Index

-1.4

Leads cyclical turns in U.S. real home prices. Historical data begins in 1953.
View the Latest
International Growth
Rate and Business Cycle
Chronologies