Keeping it Real: Brazilian Exports Stay Strong
The full version of this report was released to ECRI clients on Jan 12, 2018 -
ECRI's array of leading indexes allows us to find pockets of strength – when they exist – within broad economic slowdowns. The Brazilian economy is a case in point.

Brazil's export sector was able to offset broader economic weakness during its brutal three-year recession that began in early 2014. Export growth surged from late 2014 to late 2015, only to fall back in 2016.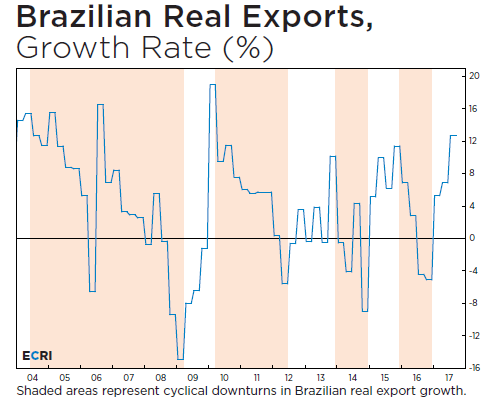 Here, ECRI's Brazilian Leading Exports Index (BRLExI), designed to anticipate cyclical turns in real exports, was able to correctly predict the mid-recession surge in export growth and its subsequent downturn. Indeed, BRLExI growth consistently anticipates cyclical turns in Brazilian real export growth (chart), typically by about half a year.

BRLExI growth entered a cyclical downturn before the Q4 2015 downturn in real export growth (not shown). BRLExI growth then turned up in mid-2016, anticipating the Q4 2016 upswing in real export growth, which surged to a 7½-year high in Q3 2017.

However, the economy has seen only a modest recovery. So while overall Brazilian growth has shown signs of stagnation, there is hope that the export sector can again provide much needed support. But, with exports only accounting for about one-eighth of GDP, its impact is likely to be limited.

Click here to review ECRI's track record, including member report excerpts.

For more information on ECRI professional services please contact us.