Weak Exports Raise Concerns on Indian Economic Growth
As global economic growth continues to be sluggish, India stands out as a bright spot. According to an advance estimate released last week by the Indian government, real GDP growth is expected to increase to 7.6% in 2015-16, up from 7.2% in 2014-15 and 6.6% in 2013-14. The IMF also expects robust growth to continue.

However, Indian exports have continued to shrink since 2014, and its year-over-year growth rate fell to a six-year low in Q4 2015 (Chart), following earlier weakness in ECRI's Indian Leading Exports Index. In line with this weakness in export growth, industrial production growth also plunged in November to a four-year low before ticking up modestly in December.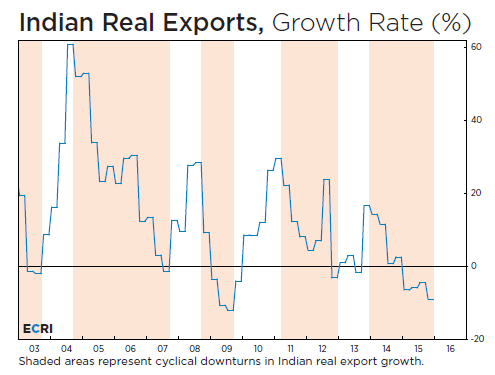 In recent years, India has become much more export-dependent, with goods and services exports accounting for over 20% of its GDP, so its exports outlook has become more critical. In this context, the latest update to the Indian Leading Exports Index offers essential insight into whether Indian exports will recover or continue to act as a drag on overall economic growth.