Trump and Chinese Export Prospects
With the election of Donald Trump as the next U.S. President, the U.S.-China trade relationship is receiving a lot of attention, particularly with regard to how the protectionist policies advocated by Mr. Trump could impact U.S. trade with China. While exports remain important for the Chinese economy, it has transitioned somewhat away from an export-led to a more domestic-consumption-oriented economy.
Indeed, China's export share of GDP has decreased from over 35% in Q1 2007 to 20% today. Consequently, China is now less dependent on its trade relationship with the U.S. than it was a decade ago.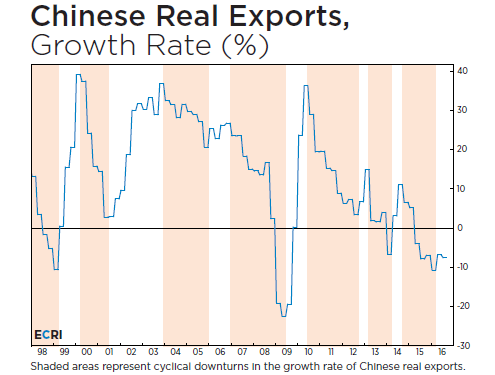 Interestingly, Chinese export data has disappointed recently, with year-over-year growth in quarterly real Chinese exports (see chart) in negative territory for the past year-and-a-half. While it is now above its recent low, it remains at readings not seen since the Global Financial Crisis. Under the circumstances, our latest update to the Chinese Leading Exports Index clarifies the cyclical outlook for Chinese export growth.