Trouble in Brazil: From Recession to Depression
Once a poster child of the BRICS countries, Brazil's economy has reversed course and is sinking like a brick. In addition, political and corruption scandals, along with the possibility of impeachment for President Rousseff, continue to consume South America's largest economy.

Last spring, we correctly forecast that Brazil's "cyclical prospects are increasingly gloomy." At the time, however, the dimensions of the ongoing recession were not yet fully realized. The recession that began at the start of 2014 took the consensus by surprise due to its severity. While there is no precise distinction between a recession and a depression, a depression is essentially an intensely severe recession.

In this context, the chart displays the growth rate of ECRI's Brazilian Coincident Index (BRCI), a broad measure of economic activity that subsumes output, employment, income and sales, in order to assess current conditions. With BRCI growth falling to a 25-year low in its latest reading, weaker than even at the depth of the Global Financial Crisis, it is clear that the Brazilian economy is experiencing a fierce recession that warrants being labeled a full-fledged depression. The question is if there is a bottom for BRCI growth ahead.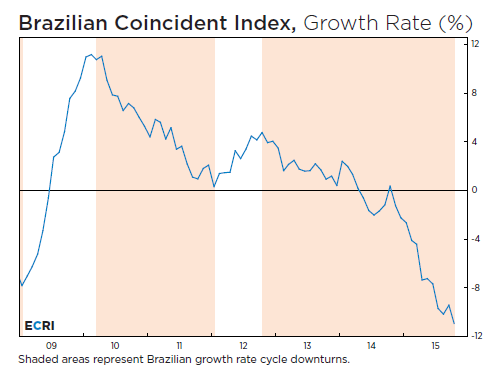 Our latest analysis takes an in-depth view of where things stand. More importantly, we take a look at where the road may lead from here, using our specialized Brazilian leading indexes, in order to assess if there are any bright spots on the horizon.