Trend growth: U.S. vs. Japan
A cyclical slowdown in global growth is unfolding in the context of a long-term decline in trend growth that we identified years ago. Indeed, U.S. long-term trend real GDP growth is converging to about ¾%, the same as Japan's average real GDP growth over the past quarter-century, spanning its "lost decades." In that sense, the U.S. is well on the way to "becoming Japan."

Meanwhile, "lowflation" prevails, with longer-term inflation expectations plunging lately. In the U.S., the 5-year 5-year forward CPI inflation breakeven rate has been hovering around 1½% of late, and the equivalent for Japan has plummeted to a scant 0.1%. These data points relate to the inflation expectations for the first half of the 2020s, meaning that the markets have little confidence that the Fed and especially the Bank of Japan will meet their inflation targets, even in the longer term.

In this context, we revisit the patterns in nominal GDP (NGDP) growth, which unite slowing real activity and falling inflation. The inexorable declines in trend NGDP growth have become even more evident lately, easing to just 3¼% in the U.S. (Chart, top panel, red line), and to just below 2% in Japan (bottom panel, red line).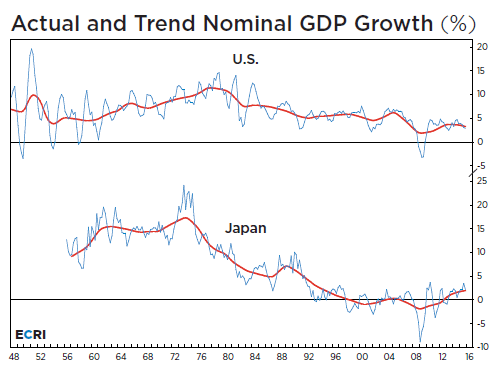 For perspective, please recall that not long ago 5% NGDP growth — the sum of the Fed's 2% inflation target and a "realistic" trend growth of 3% in real GDP — was considered a standard definition of "business as usual." Yet, if real GDP growth converges to ¾% in the U.S., while inflation is about 1½%, that would add up to only a 2¼% NGDP growth trend, a full percentage point below the current, already unusual reality, and just above where Japan stands at the moment.