Timing Bank of Korea's Next Move
With year-over-year CPI growth staying below the Bank of Korea's (BoK) 2% target for nearly four years, the recent cyclical downswing in CPI growth is of great concern to those wondering what the BoK's next move will be. For a clearer picture, we examined ECRI's Korean Future Inflation Gauge (KOFIG), designed to anticipate cyclical turning points in Korean inflation cycle.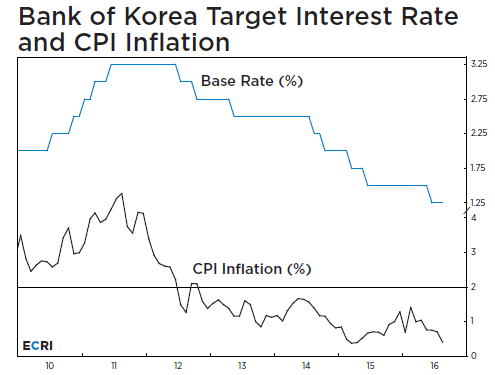 Last April, while the BoK expected inflation to rise towards its 2% target (Chart, horizontal line), ECRI predicted a cyclical downturn in CPI inflation based on the KOFIG (ICO Focus, May 2016). We also noted that "the BoK [will] resume its rate cuts sooner than many expect," which, to the surprise of the consensus, is exactly what happened.

Indeed, as anticipated by the cyclical downturn in the KOFIG, CPI inflation has declined to a 16-month low in its latest reading, and is nearing zero (Chart, bottom line). Meanwhile, the BoK cut its benchmark interest rate to a record low in early June (top line).

While many, including the BoK, now expect inflation to remain low, the latest update to the KOFIG, which has a very good record of heralding cyclical moves in the base rate, offers critical information about its future direction in the coming months.