The Threat to German Exports from Shifts in U.S. Trade Policy
The German economy remains highly dependent on trade, with exports accounting for nearly half of GDP. Given its significance, there is a growing fear that the Trump administration's plans to overhaul U.S. trade policy will harm German exports.

However, while the U.S. is now the biggest single-country export destination for Germany, exports to the U.S. account for less than 10% of total German exports, with the majority of exports heading to countries around its periphery. In fact, taken together, countries from the E.U. and the European Free Trade Agreement, along with Switzerland and non-E.U. Eastern European countries, account for about 65% of German exports.

In contrast, around 80% of exports from Canada and Mexico currently go to the U.S. In other words, while Germany is likely to suffer from a change in U.S. trade policy, it is not overly dependent on trade with the U.S., as Canada and Mexico are.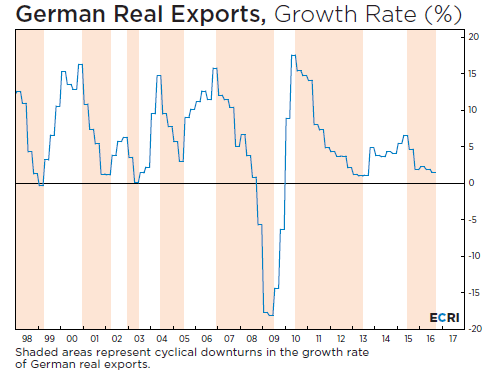 But if a shift in U.S. trade policy triggers a wave of protectionism across the globe, then Germany could be in more trouble. This is concerning given that year-over-year (yoy) export growth continues to be in a downturn and eased to a three-year low in its latest reading (chart), in line with the downswing in the yoy growth rate of the German Leading Exports Index (GELExI, not shown).

ECRI's latest report features the updated GELExI, clarifying the outlook for export growth. At the same time, it takes an in-depth look at international and domestic concerns, shedding light on the cyclical prospects for Europe's largest economy in these turbulent times.