The Outlook for Business Investment
Business investment has persistently disappointed since the Great Recession, particularly given the flood of easy money and low cost of capital. Of broader concern, however, is the extent to which weak business investment has caused productivity growth to stay "way, way down," in the words of Fed Vice Chairman Stanley Fischer, thereby contributing to the decline in long-term trend growth that ECRI first identified over seven years ago.

Indeed, the share of gross private domestic investment in GDP (not shown), while having risen since the depths of the Great Recession, remains well below its pre-crisis levels. Meanwhile, business investment growth, as represented by year-over-year growth in nonresidential fixed investment (Chart), fell to a two-and-a-half-year low in Q4 2015, driven down by slowing growth in equipment, structures and, more recently, intellectual property investment.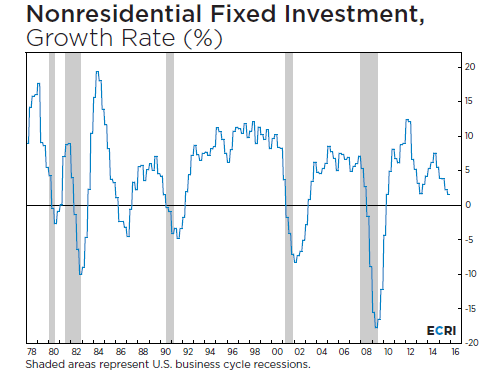 Such weak business investment is a sore point for policymakers, particularly as it inhibits a recovery in productivity growth that in turn, restrains trend GDP growth and makes it easier for the economy to slip into recession. Moreover, low productivity growth contributes to the decline in the equilibrium real interest rate, according to Fischer, constraining the Fed's options. With the stakes so high and the U.S. economy in a sustained slowdown, ECRI's latest research examines the outlook for business investment, and clarifies whether a much-needed turnaround in business investment is in the offing.