The Myth of Consumer-Driven Growth
Riding roughshod over inconvenient facts and figures in its determination to declare victory, the Fed has finally raised rates, seven years to the day after the fed funds rate hit the zero lower bound. Following this rate hike, multiple additional rate hikes next year are widely expected.

During Q&A Fed Chairman Janet Yellen spoke about "upside risks to the economy," mentioning the "much healthier" consumer. Clearly, the optimism about economic growth holding up, such as it is, or even accelerating, is predicated not on manufacturing or exports, but on consumer spending, which makes up more than two-thirds of U.S. GDP.

But in reality, consumer spending has been slowing steadily. As the chart shows, year-over-year (yoy) real personal consumption expenditures (PCE) growth is in a cyclical downturn and has now dropped to a 15-month low (thick blue line). The sources of this growing weakness are telling.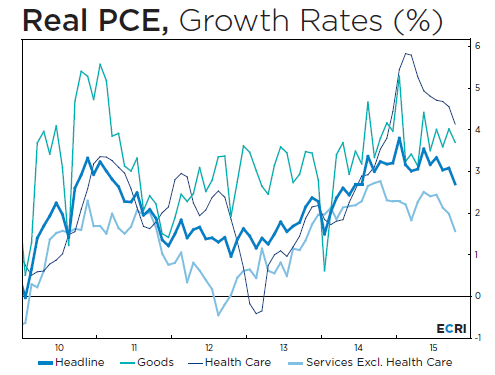 Specifically, yoy real PCE growth for goods (teal line) — though bolstered by deflation in goods prices — remains well below its January high. Meanwhile, growth in services spending is in a decisive downturn. In particular, after a six-percentage-point two-year surge that ended in the first quarter of this year, yoy real PCE growth for health care services has turned down, declining to an 11-month low (thin dark blue line). And yoy growth in services excluding health care (light blue line) — which accounts for almost half of total consumer spending — has tumbled to a two-year low. Thus, the premise of a consumer-driven pickup in U.S. economic growth is demonstrably false. As for the likelihood of a rebound in consumer spending growth in the coming months, ECRI's U.S. Leading Index of Consumer Spending already provides critical insights.