Taiwan is Not in Recession Yet
With Taiwanese GDP growth showing negative readings for the third straight quarter, many think the economy is in recession, but they are mistaken. Successive quarters of negative GDP growth are neither necessary nor sufficient for a recession diagnosis. ECRI's analysis shows that Taiwan has not experienced a recession yet.

While Taiwanese GDP contracted for two consecutive quarters in 2015, as we have demonstrated in the past – most recently in our analysis of Canada's economy (ICO Focus, November 2015) – two down quarters of GDP, a popular rule-of-thumb, is an insufficient condition for detecting a recession. Rather, a business cycle recession is characterized by concerted cyclical downturns in the levels of production, employment, income and sales. Taiwan did experience declines in some of these key indicators last year, but employment has kept rising throughout, thus making recession a non-starter.

Taiwan's GDP decline was driven mainly by deterioration in exports, which plunged to a six-and-a-half-year low in Q1 (chart), stemming from China's slowing growth. On the domestic front, private final consumption expenditures also showed consistent weakness. Given that exports and consumption expenditures account for over 70% and 55% of GDP, respectively, the outlook for these sectors is critical.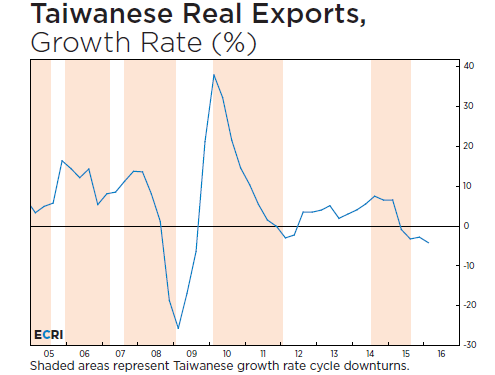 In this context, ECRI's latest updates to Taiwanese leading indexes for exports and consumption expenditures provide important insights into whether the weakness in Taiwanese economic growth will continue to deteriorate or turn around.