Stagflation Lite is Real
Earlier this year, we explained that the U.S. economy is experiencing "stagflation lite" – a cyclical upturn in inflation during an economic slowdown. This reality is becoming more and more apparent.

In fact, growth in our coincident indexes for manufacturing and services has been slowing since early 2015. Additionally, year-over-year (yoy) core CPI inflation (not shown) has already topped 2% for eight straight months, and remains just a hair below its standing in February — its highest reading since the Global Financial Crisis (GFC). Similarly, another important inflation measure for the Fed – yoy growth in the core personal consumption expenditures (PCE) deflator — is still in a cyclical upturn and hovering near February's 17-month high of 1.7%. Notably, growth in the PCE deflator for services, which is driven mostly by the domestic economy, has been over 2% all year and is clearly trending up (Chart, upper panel, black line).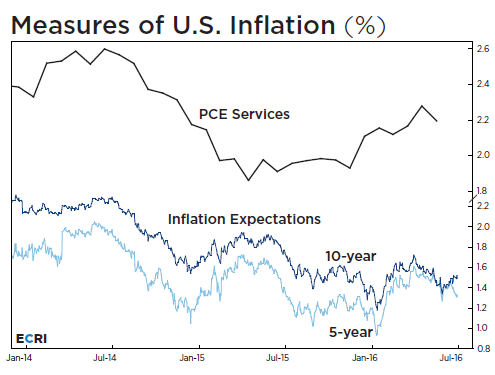 Meanwhile, the behavior of market-based longer-term inflation expectations tells a different story. While both 5-year and 10-year TIPS spreads have been trending down for over three years, and especially over the past two years, 10-year inflation expectations have seen a more marked collapse (lower panel, dark blue line), closing much of the gap with 5-year inflation expectations (light blue line). In essence, there has been a plunge in 5-to-10-year inflation expectations as longer-term expectations for growth and inflation have downshifted dramatically.

Thus, the economy is facing a cyclical upturn in inflation now, within the context of longer-term structural lowflation. Notwithstanding the long-term lowflation story, it is important to understand how long we will be faced with a persistent inflation cycle upturn amidst a relatively slow growth environment. Here ECRI's U.S. Future Inflation Gauge, and leading indexes that anticipate changes in the overall economy, already provide valuable insight.