Shrinking Trade Pie Gets Even Smaller
Early last year, we highlighted how export volume growth had collapsed following the initial recovery from the GFC, and that even the subsequent increases in export volume "have been accompanied by double-digit percentage declines in export prices for both the advanced and the emerging economies" (ICO Essentials, January 2015).

The situation has since worsened for most economies, with year-over-year (yoy) world export volume growth dropping to a 34-month low in October (not shown). In the U.S., yoy export volume growth (Chart, blue line) has skidded to its worst reading since the fall of 2009, and similar weakness can be found in the Eurozone, Japan, and Emerging Asia.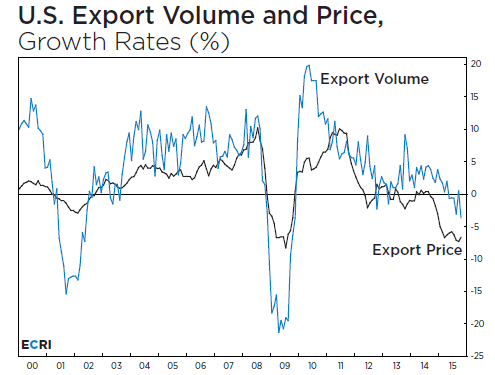 U.S. export volume growth continues to slow even as yoy U.S. export price growth sits near a six-year low (black line), and world export price growth is even lower. This degree of deflation coursing through the global economy, which also results in U.S. import price deflation, may stand in the way of Fed plans for multiple rate hikes in 2016 that are rooted in an effectively-broken Phillips curve mentality. In fact, with "the price of imports increasingly becoming a critical driver of overall inflation," import price deflation is likely to check U.S. inflation pressures to a greater degree than many believe.