Shrinking Labor Force Distorts Data
Although disappointing jobs data through May resulted in Fed Chairman Janet Yellen telling Congress that "the pace of improvement in the labor market appears to have slowed," June's rebound in payroll jobs seems to have extinguished all concern about the labor market and the state of the U.S. economy. However, the cyclical downturn in jobs growth has not materially improved.

Notwithstanding the latest pop in payroll jobs growth, year-over-year (yoy) job growth actually peaked 16 months ago, and remains near a 27-month low. Meanwhile, the labor force participation rate (LFPR) had dropped back to a five-month low before ticking up slightly in June (Chart, light blue line).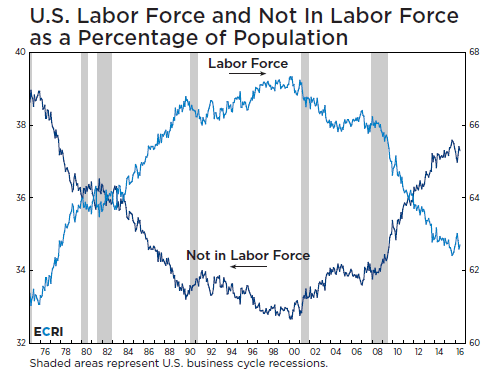 Despite the cyclical downturn in job growth, the unemployment rate is hovering near "full employment levels" as defined by the Fed. This paradox of a low jobless rate accompanied by weak yoy job growth is explained by the shrinking of the labor force since the Great Recession. Indeed, as the chart shows, the LFPR has been in a sustained slide and, despite an uptick late last year, remains far from its pre-recession highs. As its mirror image, the share of people not in labor force (NILF) surged in the wake of the Great Recession (dark blue line), shrinking the portion of the population available for work. This is a key reason behind the reduction in the jobless rate.

Still, the Fed would like to believe that more people are entering the labor force, and that the slowing in employment growth is "transitory." A key question on this count is whether the long-term downtrend in the LFPR has run its course, or its nascent upturn will be cut short by a new recession? For answers, our latest analysis reviews the cyclical and structural changes in the labor market around the 2001 recession and since the onset of the Great Recession, including the latest signals from ECRI's specialized labor market leading indexes.