Shifting Eurozone Cyclical Prospects
The European Central Bank's (ECB) monetary policy is extremely — and increasingly — accommodative, yet it has failed to boost inflation and economic growth in the Eurozone. In December, the ECB expanded its 1.1 trillion euro quantitative easing (QE) program by 360 billion euros after the initial program proved ineffective, underscored by the fact that Q4 2015 real GDP growth was just 0.3% and year-over-year CPI inflation dropped back into negative territory in February to a one-year low. The markets seemed disappointed by the augmentation to the program, and further action is anticipated this month. Though ECB policy accommodation is already at historic levels — and the ECB has even resorted to increasingly negative rates for its overnight bank deposit facility — more QE has not proved to be the answer.

Indeed, after years of propping up the Eurozone economy, the core economies of France and, especially, Germany are slowing. These core Eurozone economies have continued to weigh on Eurozone inflation and growth prospects, regardless of the unconventional policies undertaken by the ECB. However, although growth in the core has weakened, growth in the periphery economies of Italy and Spain has been accelerating, helping to support overall growth in the monetary union.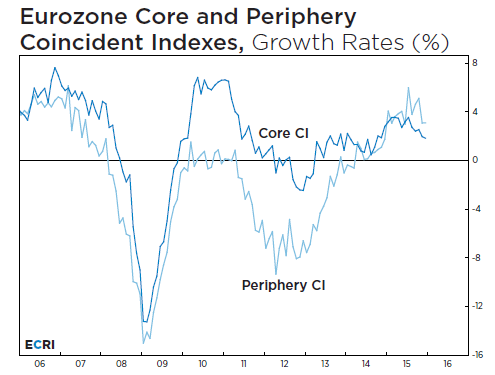 This is clearly evident in terms of the growth rates of the combined coincident index (CI), a broad measure of economic activity that includes GDP, employment, income and sales, for the core (Chart, darker blue line) and the periphery economies (light blue line). Growth in the periphery turned up in late 2012, reached an eight-year high in July 2015, and now sits a little below that high. Meanwhile, the CI growth for the core economies turned down last March, and fell to a 15-month low in its latest reading. As a result, Eurozone CI growth has eased, but the strength of the periphery has moderated the decline.
ECRI's latest research takes an in-depth look at the cyclical outlook for the core and periphery economies of the Eurozone. Our analysis clarifies the durability of the support from the periphery and the growth prospects for the core, with implications for the monetary policy options available to the ECB.