Risky Business
The risk implied by fixed income markets, as measured by the yield spreads for corporate bonds of different qualities, is near levels typically seen in the vicinity of recessions. This is especially concerning with the U.S. economy already facing "stagflation lite" against the backdrop of declining economic trend growth.

The spread between interest rates on high yield corporate bonds and BAA corporate bonds (Chart, lighter blue line, shown inverted) is now around where it was at the start of the Great Recession. Furthermore, it is close to the levels seen ahead of the 1990-91 and 2001 recessions, as well as the 2012-13 growth rate cycle downturn that turned out to be the worst 'non-recession' ever. While this spread may be exaggerated somewhat by oil price weakness pushing up rates on high yield bonds for oil drillers, the spread between BAA and AAA corporate bonds (dark blue line, shown inverted), which is largely immune to such distortion, is wider than it was at the start of the last three recessions.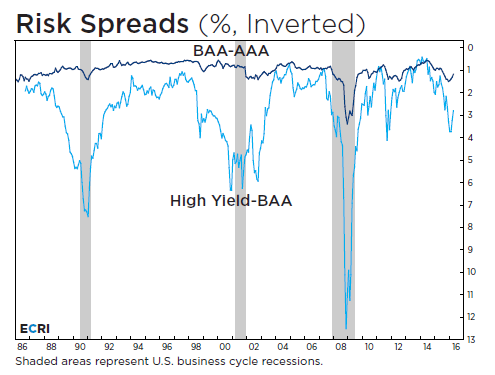 Although both spreads have narrowed a bit of late, the reversals have been modest, and the measures remain well above their cyclical lows. Thus, fixed income markets still indicate high risk. And while a recession is not yet imminent, these risk measures suggest that a recession is not off the table this year.

ECRI's latest report takes an in-depth look at financial market risk measures, including a cyclical examination of equity prices, valuation and the equity risk premium.