Rising Inflation Weighs on Korean Consumer
There are growing concerns about Korean stagflation, similar to what ECRI correctly predicted for the U.S. early last year. Indeed, Korean CPI inflation climbed to 2% in January, meeting the Bank of Korea's (BoK) inflation target for the first time in more than four years. That increase was consistent with earlier move in our Korean Future Inflation Gauge (KOFIG) and our global reflation call from last summer.

Meanwhile, Q4 2016 GDP growth was just 0.4%, continuing the almost-uninterrupted sub-1% pace of growth since the second half of 2010. Against this backdrop of higher inflation and slow growth, the BoK has kept the base rate at a record low since last June, concluding that weak consumer spending is a bigger concern than inflation.

Under the circumstances, the Katona effect – the link between CPI volatility and consumer spending growth –provides clarity. When consumers encounter an unexpected rise in prices, consumption falls and savings increase because rising consumer price volatility creates uncertainty about inflation, inducing the consumer to boost precautionary savings by reducing discretionary spending.

Following the recent cyclical shift in CPI volatility (not shown), consumer spending growth improved in 2015 but has since declined to a one-and-a-half-year low in Q4 2016 (chart). Given that household consumption expenditures account for about half of GDP, the consumer spending growth outlook is critical for overall Korean economic growth.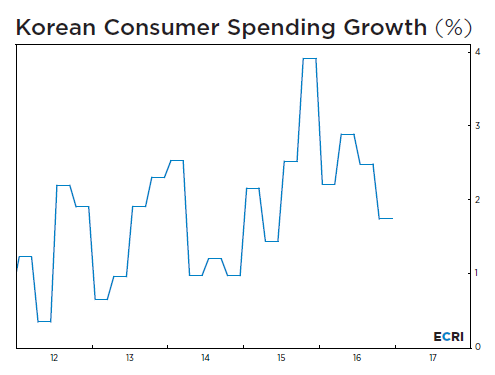 The latest analysis of CPI volatility indicates whether consumer spending growth will continue to weaken, or recover in the coming months. More importantly, the recent update to ECRI's KOFIG gives further clarification, as it is designed to anticipate cyclical turning points in CPI inflation.