Reflation Would Put Brazil in Bind
The Banco Central do Brasil (BCB) has remained focused on getting inflation under control during the current economic crisis, even as Brazilian GDP contracted for the sixth consecutive quarter in Q2. With the target rate fixed at a ten-year high of 14.25%, year-over-year CPI inflation has finally pulled back this year, ending the two-year inflation cycle upturn that saw CPI inflation nearly double.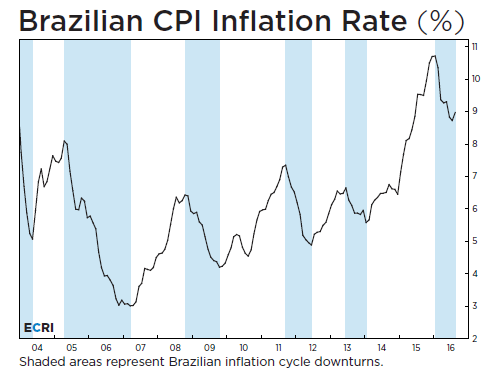 ECRI's Brazilian Alternative Future Inflation Gauge (BRAFIG) consistently anticipated those cyclical turns in CPI inflation (Chart). Indeed, the BRAFIG entered turned down in April 2015, ahead of the January 2016 peak in CPI inflation, which dropped to a 14-month low in July before edging up in August. In January – when CPI inflation was at a 12-year high – we stated that CPI inflation would "ease a bit in the months ahead … [taking] pressure off the BCB to hike rates further" as Brazil slipped into a depression.

But, with CPI inflation ticking up to a three-month high in its latest reading, it could mark a nascent reflation cycle, the risk of which is monitored by the recently-updated BRAFIG.