Nonresidential Construction Outlook Key for Fed
With the U.S. economy in a sustained slowdown and the Fed's rate hike plan on a collision course with the economy, there is good reason to try and find bright spots. In the latest Fed minutes, the Federal Open Market Committee made a positive case for nonresidential construction, highlighting commercial building as an "area of strength" in several regions.

In this context, an update to our U.S. Coincident Nonresidential Construction Index (USCNRCI) is instructive. In late 2014 we noted that the recovery in USCNRCI growth could be "short-lived" if growth in the U.S. Leading Nonresidential Construction Index (USLNRCI) "continue[d] to decline" (USCO Focus, November 2014). That is the scenario that has come to pass: with the then-nascent downswing in USLNRCI growth having developed into a cyclical downturn, the recovery in USCNRCI growth (Chart) fizzled out by mid-2015. While USCNRCI growth has picked up a bit from September's ten-month low, it remains in a cyclical downturn.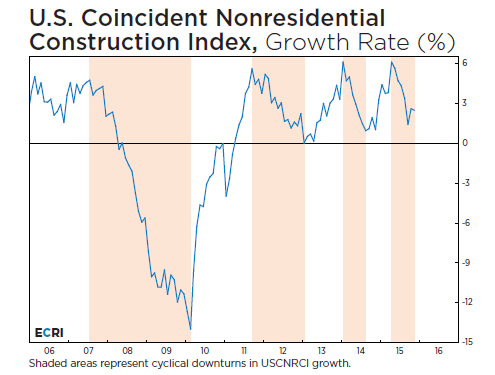 Thus, despite the Fed's stance, nonresidential construction does not appear to be the bright spot the Fed hopes. However, our latest USLNRCI clarifies if the recent improvement in USCNRCI growth signals a turnaround for the sector, or if the nonresidential construction sector will worsen further.