No Locomotive for Global Growth
The ongoing global growth slowdown has taken its toll on exports. Indeed, real export growth has already dropped into negative territory for the U.S. and Japan, following the 2013 cyclical downturns in the growth rates of our U.S. and Japanese Leading Exports Indexes (not shown). U.S. export growth has slumped to its worst reading since late 2009 (Chart, dark blue line), while Japanese export growth is approaching its lowest point since late 2012 (red line). Meanwhile, Eurozone export growth has declined to its lowest reading in over two years (light blue line), as anticipated by the early 2015 peak in Eurozone Leading Exports Index growth (not shown).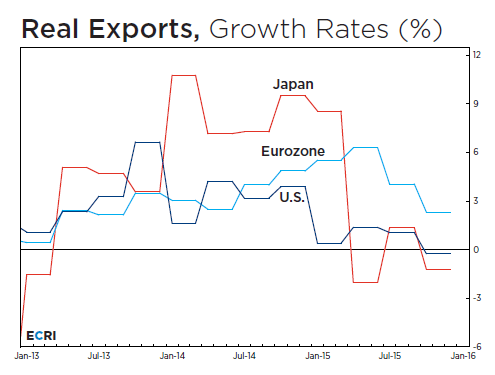 Having first flagged this more than a year ago, we revisited the issue early this year, making the point that, even with export prices falling steeply, export volume growth in these major developed economies — none of which primarily exports energy or raw materials, which are widely considered to be the weak spots of the global economy — had kept declining inexorably.

Our leading exports indexes clarify the export outlook in these economies and how exports will fare as a driver of global growth now that competitive devaluation is no answer, and may be no longer possible to accomplish via monetary easing, in view of the recent yen and euro appreciation following dovish central bank actions.