Low Labor Productivity Growth The Main Culprit
During a presentation in April, we showed how the contribution of three components to productivity growth had changed since the end of World War II. While productivity growth was quite strong in the initial decades following World War II (1948-73) and also in the second half of the 1990s, it has been slowing ever since.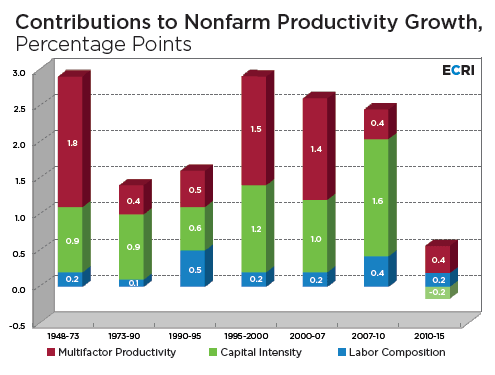 The latest period of productivity growth (2010-15) following the Great Recession has disappointed. From the chart, which was updated in May, it is clear that the key reason for the decline in productivity growth has been the plunge in the contribution of capital intensity. As we explained earlier: "What's happened is that economic growth, such as it is, has been skewed toward growth in the number of hours worked, largely in lower-wage service sector jobs, while capital investment has taken a huge hit. Basically, without a revival in capital investment, we are unlikely to see much of a recovery in labor productivity growth."

In our latest analysis, we delve deeper into the causes and consequences of that decline in capital intensity to better assess the likelihood of a pick-up in labor productivity growth.