Under Pressure from Central Bank Orthodoxy
We recently highlighted how the Fed has "demonstrated a clear misunderstanding of what drives real wage growth." This is largely due to a Phillips-curve-driven misread.

Indeed, the Fed continues to place importance on the Phillips curve, or some variant thereof, as a determinant of monetary policy. In this context, it is notable that the jobless rate has continued to sink further below the Fed's estimates of the Non-Accelerating Inflation Rate of Unemployment (NAIRU), meaning its estimate of "full employment" (chart). At this time, the Fed's median estimate of the NAIRU – having been repeatedly revised downward over the years – now stands at 4.7%, whereas the unemployment rate has fallen to 4.4%.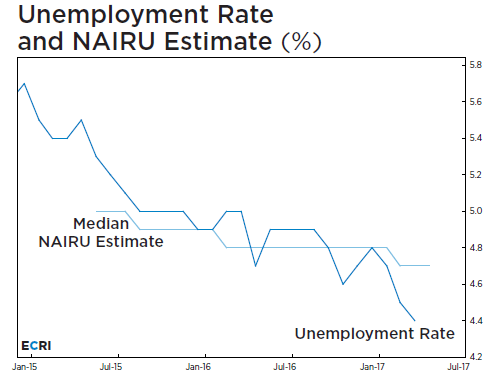 Please recall Fed Chairman Janet Yellen's 2007 declaration that "The Phillips curve is a core component of every realistic macroeconomic model. It plays a critical role in policy determination." While she might have modified her beliefs in light of her subsequent experience, Ms. Yellen is unlikely to have abandoned such a basic element of central bank orthodoxy altogether. Given that reality, the fact that the jobless rate has not been lower since 2001 should already be causing unease at the Fed.

Nonfarm payroll job growth has been averaging 185,000 jobs per month this year – roughly double the pace of job growth needed to keep the unemployment rate stable. Thus, the jobless rate is unlikely to stop falling unless job growth slows sharply. Here, ECRI's leading indexes, especially our U.S. Leading Employment Index, help to assess the likelihood of such a development.

In any event, with the Fed's dual mandate effectively met, the Phillips curve will remain a driver of monetary policy, even though it is notoriously unreliable, as we showed several years ago. Consequently, the Fed may overlook changes in the cyclical outlook that could have bearing on its rate hike plans.