U.K. Home Price Growth Turns Negative
The broader U.K. economy started the year on soft footing with quarter-over-quarter GDP growth at a one-year low, year-over-year real disposable income falling to a multiyear low and the savings rate plunging to a record low. Additionally, CPI inflation continues to be above the 2% Bank of England (BoE) target, rising to nearly a four-year high in May, as anticipated by ECRI's U.K. Future Inflation Gauge.

Facing weaker growth and rising inflation in the midst of heightened political uncertainty, the BoE's Monetary Policy Committee's latest vote was unexpectedly close to raising interest rates. In its minutes, the BoE also highlighted "the extent to which the housing market posed additional risks to the outlook for demand." With the consumer already squeezed by rising prices, it is important to assess how U.K. home price growth will impact inflation.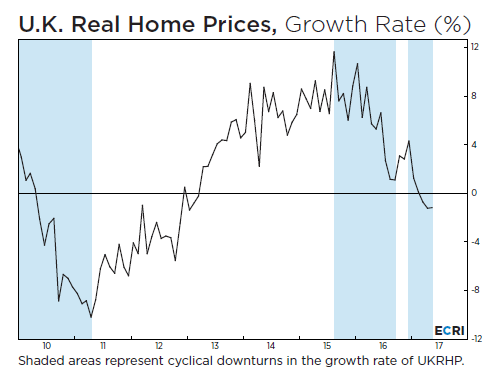 Following the earlier upswing in the growth rate of the U.K. Leading Home Price Index (UKLHPI, not shown), U.K. real home price (UKRHP) growth turned up in September 2016, and rose to six-month high by year-end (chart). Since then, however, home price growth has begun to fade, dipping into negative territory and remaining virtually unchanged in May from April's multiyear low.

The latest update to our UKLHPI clarifies the cyclical trajectory of U.K. home price inflation, indicating whether home prices will continue their downward drift, or reverse course – further boosting inflation.