The Longer-Term Cyclical Damage from Brexit
We are students of the business cycle because it is part-and-parcel of market-oriented economies, and a cyclical vantage point provides the best opportunity to predict turning points in economic growth. Such analysis, based on ECRI's U.K. leading indexes, is becoming increasingly important for the post-Brexit U.K. because it is likely to see more frequent journeys into recession in the coming years, as longer-term trend growth suffers.

U.K. trend GDP growth has already nearly flatlined and, per our "yo-yo years" thesis, very low trend growth increases the odds that every cyclical slowdown will open up a recessionary window of vulnerability, amplifying recession risk.

A year and a half ago, our research showed that the drivers of the business cycle were strong ahead of the vote for Brexit. Therefore, unlike most observers, we were correct in not predicting a recession at the time. However, the Brexit vote did exacerbate the decline in longer-term U.K. potential GDP growth.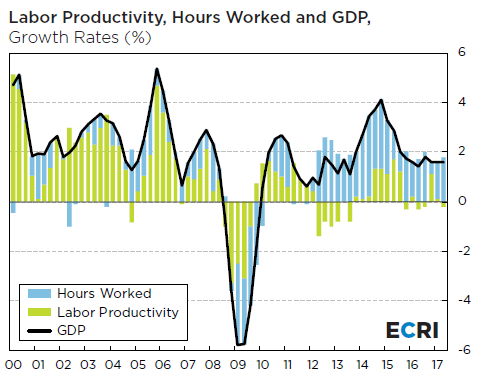 Notably, over the last five years, GDP growth (chart, black line) has been driven almost exclusively by growth in hours worked (light blue bars), while the contribution from labor productivity growth has been much less, or even negative (light green bars).

From 1971 to 2007, labor productivity growth was much higher, averaging 2.3% per year. But there was a huge drop after 2012, when labor productivity growth averaged a meager 0.1% per year. Labor productivity growth then fell a bit more, and has been virtually non-existent since 2016.

Moreover, in a post-Brexit U.K., the impact from reduced migration is likely to lower labor productivity growth even further. In fact, migration has already been affected in the year since the Brexit vote, with net migration shrinking by 106,000 – the largest decline on record. This does not bode well – according to some estimates a one-percentage-point decline in the migrant share of the working age population could lead to a 0.4%-0.5% decrease in productivity.

Beyond this recent migration change, the mystery of extremely low productivity growth and, as a consequence, its effect in shrinking GDP growth has plagued mainstream economists for years. However, a piece of the puzzle can be found when we step back and take a long-term view of the employment trends in the U.K.

Specifically, the massive shift in employment from the goods-producing sector to the services-providing sector, particularly since 2011, is one of the factors sapping productivity growth. Between the late 1970s and the eve of the Global Financial Crisis (GFC), services employment increased by 51%, while manufacturing employment fell by 56%.

Since the eve of the GFC, services employment has risen by a bit more, while manufacturing employment has slumped slightly further. Meanwhile construction employment has been essentially flat, after rising somewhat in earlier decades. The upshot is that five out of six U.K. jobs are now in the service sector, where productivity is difficult to increase, with the remaining jobs almost evenly split between manufacturing and construction.

Currently, the Office for Budget Responsibility projects average hours worked to stay "broadly flat" and there is no certainty as to when, or even if, productivity growth will sustainably revert back to its long-term average. With such low trend growth, the U.K. risks "becoming Japan."

Click here to review ECRI's track record, including member report excerpts.

For more information on ECRI professional services please contact us.