The Impact of Chinese Industrial Growth on Taiwan
The consensus is quite optimistic about the Taiwanese economic growth outlook, following stronger-than-expected Q2 2017 GDP growth. The Taiwanese government recently upgraded its GDP growth forecast, noting that "recovering global demand [is] expected to support the momentum of Taiwan's goods exports."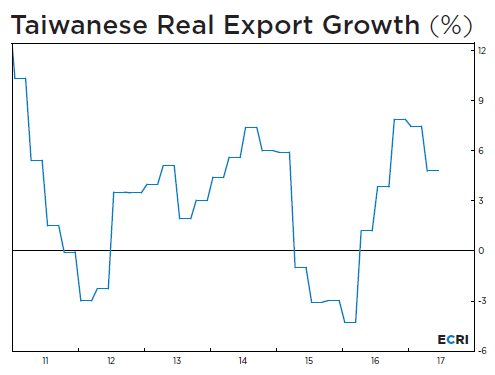 Taiwan's recent growth was driven largely by strong export performance, while consumer demand was sluggish and business spending contributed virtually nothing. In fact, year-over-year (yoy) Taiwanese real export growth improved to a nearly-six-year high in 2016 (chart), and this is consistent with our global industrial growth upturn call from last summer.

With exports accounting for about 75% of GDP, and goods exports to China alone accounting for about 21% of GDP, Taiwan's growth prospects are highly influenced by the Chinese industrial outlook.

Even though it was the key driver of Q2 GDP growth, export growth has actually been easing recently (chart). Therefore, a key question is whether it will continue to decline in the coming quarters. ECRI's Chinese Leading Industrial Production Index and Taiwanese leading indexes provide a clear answer to that question.