Russia on the Rise?
Russia has been a prominent global political player in recent years, making waves with the annexation of Crimea and the resulting sanctions, military intervention in Syria, and U.S. intelligence claims of election interference. While these political developments have garnered ample coverage, the country's emerging economic realities have not. In fact, consistent with ECRI's cyclical outlook, Russia's economy has strengthened noticeably in recent months, with economic growth improving even as inflation has declined almost to its central bank's target.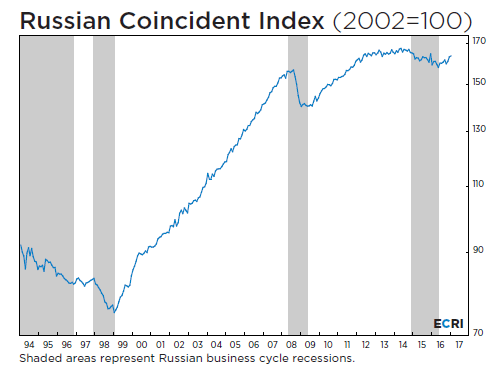 The current upturn is evident from the recent increase in the level of ECRI's Russian Coincident Index (RUCI, chart), a broad summary measure of economic activity. Notably, Russia entered a business cycle upturn in the spring of 2016, when a 17-month recession came to a close. Since then, the level of the RUCI has continued to climb, and is now at its highest reading in 13 months.

Meanwhile, RUCI growth has also risen decisively since the end of the recession, signaling a clear cyclical revival that was anticipated by the upturn in growth in ECRI's Global Leading Manufacturing Index (GLMI, not shown). Indeed, GLMI growth, a short leading indicator of global industrial growth, serves as a good leading indicator of RUCI growth because Russia is a predominantly resource-driven economy, and the prices of industrial commodities – including fuels – are a dominant driver of the economy.

Right now, aided by the upturn in global industrial growth, the Russian economy is experiencing a cyclical upswing. The key question is whether its good fortune will persist.

In this context, ECRI's has just completed an in-depth analysis, including our Russia-specific leading indicators that shed light on near-term cyclical prospects. The report also details how that cycle interacts with critical long-term structural issues.