Next Global Growth Downturn Will Blindside Most
It's a sure bet that most will be surprised when the next cyclical downturn in growth takes hold. The consensus is notoriously bad at recognizing cyclical turning points because people typically extrapolate recent trends into the future – a surefire way to be blindsided when the economy changes direction. Keeping this in mind, we review the consensus growth outlook for 2018.

After starting 2017 with a subdued global growth outlook, in part reflecting expected emerging market weakness due to geopolitical trade considerations, the International Monetary Fund and others were surprised by the strength of this year's synchronized global growth upturn that ECRI predicted in late 2016.

Today, with the global upturn obvious to all, the prevailing view is that this broadbased upturn will continue through 2018. However, based on our global leading and coincident indexes, there are early indications that this view is mistaken.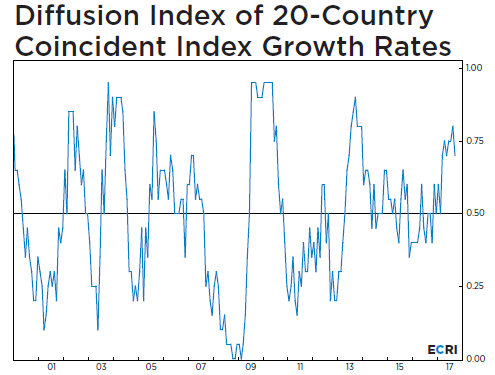 The synchronized cyclical upturn currently underway, with growth increasing in the majority of economies, is shown by ECRI's 20-Country Country Coincident Index Growth Diffusion Index (20CIGDI). The 20CIGDI measures the proportions of the 20 economies regularly monitored by ECRI whose coincident index growth rates have improved over a six-month span – in other words, the degree of synchronization of global growth.

As is evident from the chart, the 20CIGDI turned up sharply at the beginning of the 2017. By August, 80% of the 20 economies' growth rates were above six-month-ago readings, consistent with our 2016 prediction of a global growth upturn.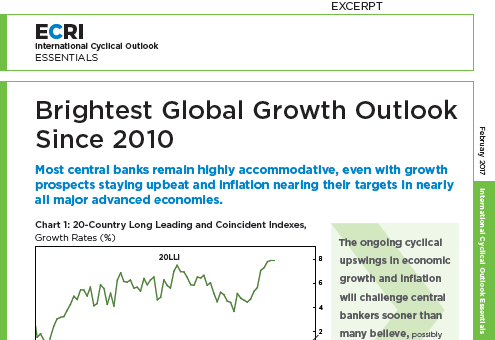 Fast forward to September 2017, and the 20CIGDI has slipped a bit. As everyone cheers the synchronized nature of the current upturn, this is an indication that it is already becoming less pervasive. Stay tuned.
Click here to review ECRI's track record, including member report excerpts.
For more information on ECRI professional services please contact us.