Mexican Exports Rebound Ahead of BAT Threat
The proposed border adjustment tax (BAT), which would effectively levy a substantial tax on imports to the U.S., is of great concern for the Mexican economy, as it directly threatens its vital export sector. Of course, as of now, the BAT is still only a proposal, and is unlikely to impact Mexican exports near term. So, how are cyclical prospects for Mexican exports ahead of this potential policy shock?

Here, a review of ECRI's Mexican Leading Exports Index (MXLExI), designed to anticipate cyclical turns in Mexican real exports, is instructive. Indeed, cyclical turns in MXLExI growth typically lead those in Mexican real export growth by about two quarters.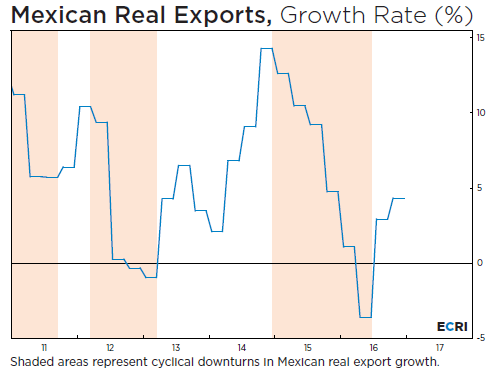 In mid-2014, MXLExI growth entered a cyclical downturn (not shown), anticipating the late 2014 peak in Mexican real export growth (chart). Thereafter, MXLExI growth turned up in April 2016, ahead of the return to positive territory in Q3 2016 for real export growth, which then hit a one-year high by year-end.

While Mexican real export growth rebounded strongly in the second half of 2016, the U.S. dollar has weakened against the peso since mid-January, and the BAT would be an additional headwind for export prospects. ECRI's latest update to its MXLExI clarifies whether Mexican exports will continue to recover.