Lack of Financial Stress Stresses Fed
There is rising concern at the Fed that, despite its ongoing rate hike cycle, financial conditions have not tightened accordingly. Indeed, per the latest Fed minutes, a few Federal Open Market Committee members "expressed concern that subdued market volatility, coupled with a low equity premium, could lead to a buildup of risks to financial stability," and "judged that the case for a policy rate increase … was strengthened by the easing … in overall financial conditions over the previous six months."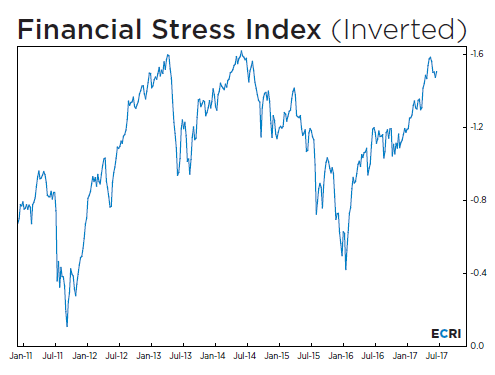 These developments are shown by the St. Louis Fed's Financial Stress Index (FSI), which had fallen to a nearly three-year low by early June 2017 from the four-year high seen in mid-February 2016 (chart, shown inverted). In its nearly-quarter-century history, such lows had been plumbed on only two occasions: in the spring of 2013 before the Taper Tantrum, when QEternity was in full swing despite a growth rate cycle (GRC) upturn and improving growth prospects, and in the summer of 2014, when – despite a falling jobless rate and a continued GRC upturn – Ms. Yellen was hunting for reasons to push off any rate hikes.

Currently, not only have the NASDAQ and the S&P 500 stock price indexes scaled new record highs, but also the S&P 500, MSCI Europe and MSCI Asia-Pacific ex Japan stock price indexes have all gone more than half a year without a 5% correction. In more than three decades, there has not been a calendar year when all three indexes have avoided such a correction. According to the Wall Street Journal, the justification is that "earnings growth appears to be accelerating globally, economic growth is improving and central banks largely remain accommodative, even amid recent moves to tighten policy."

Of course, the acceleration in global earnings growth, in the context of the global economic growth upturn we predicted nine months ago, is backward-looking at best. Meanwhile, not only have some major central banks made moves to tighten policy, but also most have signaled more hawkish intentions.
However, ECRI's leading indexes provide a clear understanding of the outlook for global economic growth that go well beyond simply extrapolating from coincident data. Thus, if a shift in the direction of global economic growth is coming, both markets and central banks are in for a surprise.