Key Trade Data Shows Fast-Worsening Deficit
The full version of this report was released to ECRI clients on Dec 28, 2017 -
With ECRI's focus on economic cycles, including a large array of specialized leading indexes, we have a solid read on where we are in the business cycle. But our cyclical vantage point also allows us to distinguish between those economic developments that are cyclical, and those that are structural in nature. While we are strictly nonpartisan, political change is often spurred by economic forces, particularly longer-terms shifts, including those in foreign trade, which figured prominently in the 2016 presidential election.

Donald Trump rode to the White House in part on the promise of an economic revival at home, largely by reversing the massive deficits piling up between the U.S. and nearly all its trading partners, China chief among them. A year later, there is an indication that this imbalance has increased against the U.S. and in favor of its trading partners.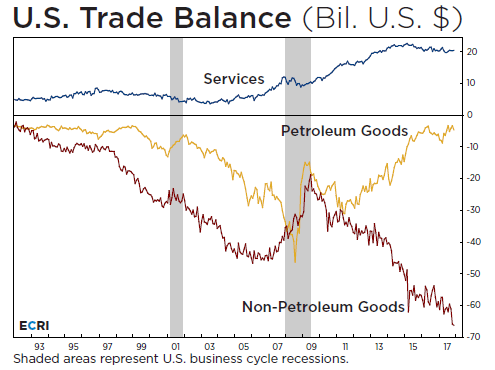 Trends in the three key sectors of U.S. trade are revealing. The chart shows the U.S. trade surplus in services, along with the trade deficits in both petroleum and non-petroleum goods.

Since 2010 the U.S. trade surplus in services has more than doubled – an $11.6 billion increase – leveling off over the last few years. Meanwhile, the petroleum goods trade deficit has shrunk by over $21 billion this decade, to its lowest level this century, and "thanks to the fracking revolution, the U.S. has now become the third-largest producer of crude oil" in the world.
This has helped the U.S. to supply about 3.5% of China's oil imports, but this improvement in petroleum exports has "been swamped by a staggering expansion in [the] non-petroleum trade deficit to a record high" (ICO Essentials, December 2017). The non-petroleum trade deficit has more than doubled since 2010, almost a $39 billion run-up that accelerated in the past year.

With the U.S. ramping up the production of oil – an industry synonymous with cyclical booms and busts –this sector's volatility, combined with "very low trend growth increases the odds that every cyclical slowdown will open up a recessionary window of vulnerability."

A key part of President Trump's economic platform involves lowering the U.S. trade deficit. The U.S. approaching energy independence certainly helps on that score, though also making the U.S. more dependent on the energy requirements of its global trading partners – including China.

At the same time, while the services trade surplus has leveled off, the U.S. non-petroleum goods trade deficit continues to hit new records. Indeed, with both China and Mexico, the U.S. non-petroleum goods trade deficit has never been higher over any 12-month period in history. Against that backdrop, it comes as no surprise that Mexican auto exports to the U.S. hit a record high in 2017.

Click here to review ECRI's track record, including member report excerpts.

For more information on ECRI professional services please contact us.