Inflation Volatility Hurting Italian Consumers
While the European Central Bank decided to keep interest rates unchanged earlier this month, ECRI had pointed out that "widespread inflation cycle upswings across the advanced economies are now in evidence," consistent with our global reflation call from last summer. In fact, following the earlier upturn in ECRI's Italian Future Inflation Gauge (ITFIG), Italian CPI growth has been increasing since last spring against the backdrop of the decisive upturn in the Eurozone Future Inflation Gauge, which continues to point to higher Eurozone inflation.

The Katona effect, linking price level volatility to consumer spending growth, helps clarify how the recent rise in Italian inflation impacts consumers. This is because, when consumers face an unexpected rise in prices, consumption falls and precautionary savings increase due to the uncertainty created by the rising volatility of prices.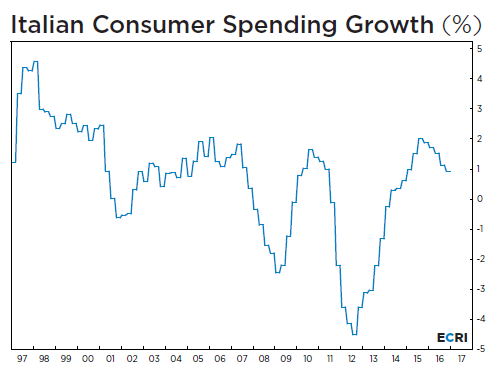 Following the late 2014 upturn in CPI volatility (not shown), year-over-year growth in household consumption has retreated from the 9½-year high it reached in Q3 2015, and fell to a two-year low in its latest reading (chart). Given that household consumption expenditures account for about 60% of GDP, the consumer spending growth outlook is significant for Italian economic growth prospects.

The latest update to the ITFIG, as along with our analysis of Italian CPI volatility, further clarifies whether consumer spending growth will continue to weaken, or if a recovery is in the offing.