Income Gains Still Fall Short for Most Americans
Immediately after the November elections, in an analysis featured in the New York Times, ECRI showed just how unevenly job gains have been distributed during the current expansion. In particular, we showed that Whites actually had fewer jobs than nine years earlier, while Hispanics, Blacks and Asians together gained all of the net jobs added, and more. This, we explained to the Washington Post, was largely because "Asians, black and Hispanics tend to be located in the population centers, and that's where a lot of the job growth has been."

The chart below showcases the disparate developments in terms of real median household incomes by race or ethnicity, adjusted for a 2013 break in the data. The recovery since the Great Recession has been uneven, and, only for Hispanics has it surged to a record high, of $47,675, i.e., 9.4% above its pre-recession peak.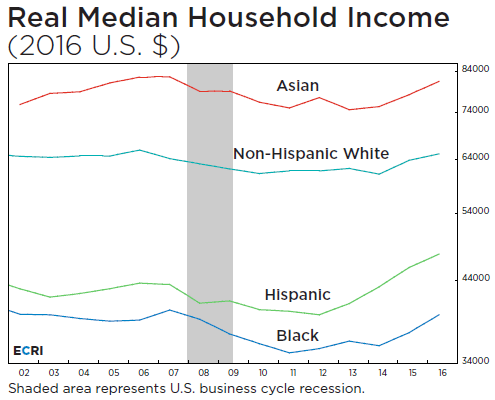 In contrast, despite the recovery in recent years, the median household income for non-Hispanic Whites, at $65,041, is still 1.2% below its pre-recession high. The same measure for Blacks, at $39,490, remains 1.5% below its pre-recession peak, and the $81,431 reading for Asians is still 1.4% below its pre-recession high.

In other words, except for Hispanics, median household incomes for all groups remain shy of earlier highs. While Hispanics have fared much better than other groups in terms of the extent of the recovery in household incomes from post-recession lows, their median household income remains 27% lower than that for Whites. Even worse, median household income is almost 40% lower for Blacks than for Whites. Asians fare the best, with median income 25% higher than Whites, and more than double that of Blacks. That said, the large majority of Asians live in expensive metropolitan areas, which, if accounted for, helps explain the income differences between non-Hispanic Whites and Asians.

In the bigger picture, while a rise in incomes is welcome, because purchasing power has actually declined over the years for all groups other than Hispanics, many people have been living from paycheck to paycheck. The upshot is that nearly six in ten Americans have less than $500 in savings, while almost a quarter have none. And, with current economic growth "about as good as it gets," cyclical forces will not provide any relief in the near term.