Improving Global Outlook and Italian Exports
While the global economic outlook is positive, Italy – with a Q4 2016 GDP figure that is still more than 7% below its 2008 peak – is not riding the wave of higher global growth. Furthermore, with increasing CPI volatility that has been heightening uncertainty about inflation and dampening consumer spending, the Italian consumer has been unable to provide significant support to the economy of late.

However, because strengthening global growth naturally boosts export growth via increased demand, Italy may be able to benefit in at least one way from the improved global growth outlook. Indeed, as anticipated by ECRI's Italian Leading Exports Index (ITLExI), year-over-year real export growth has already risen from its early 2016 low, and reached a 1½-year high in Q4 2016 (chart).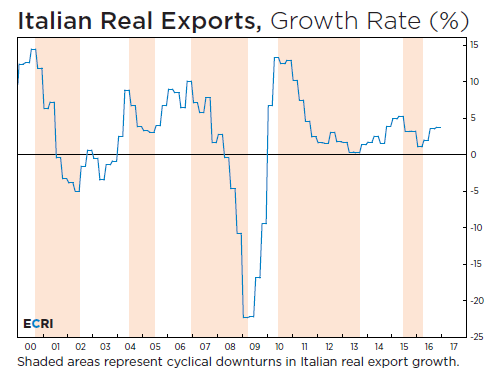 With exports accounting for approximately 30% of GDP, this could help counter weak domestic growth if export growth continues to rise. In our latest review, we feature our ITLExI, and provide a clear guide for what now lies ahead for Italian exports growth.