High Hopes for Eurozone Industrial Growth
A slew of recent data – including the Eurozone Manufacturing PMI, which surged to its highest level since 2011 – has bolstered consensus expectations that industrial growth will continue to support the broader Eurozone recovery. Indeed, coincident Eurozone industrial production (EZIP) growth data has already improved noticeably since its cycle low. The chart displays the three-month trailing average – in order to smooth out month-to-month volatility – of the year-over-year growth rate of EZIP.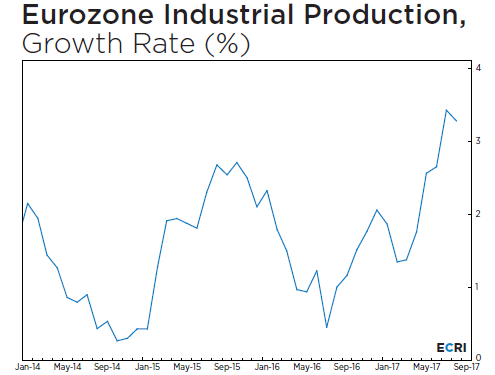 However, survey data has a spotty record of actually predicting IP (USCO Focus, September 2016). In contrast, ECRI's Eurozone Leading Manufacturing Index (EZLMI) is specifically designed to anticipate turns in Eurozone manufacturing activity. Following a downswing in EZLMI growth that began in the summer of 2015, EZIP growth turned down and fell to a 1½-year low in July 2016. Then, as anticipated by the earlier upturn in EZLMI growth, and, more broadly, our global industrial growth upturn call in the summer of 2016, EZIP growth entered a cyclical upturn and, despite edging down in August, stayed close to July's 70-month high.

Whether or not the upswing will continue has already been foretold by the latest update to our EZLMI, which is comprised of the leading indicators driving Eurozone industrial growth, and thus provides early warning of a change in cyclical direction. If a shift is ahead, it would not only surprise the consensus, but also have implications for the health of the overall Eurozone recovery.