Global Growth Upturn Running Short on Fuel
The full version of this report was released to ECRI clients on Jan 26, 2018 -
The great expansion of world trade, beginning in the 1990s, created an environment of extensive trade linkages that now are part and parcel of globalized, market-oriented economies. Exports drive globalization, but the cyclical forces that propel trade growth are distinct from those that drive domestic economic growth. That is why ECRI developed specialized leading exports indexes, to specifically monitor export cycles for different countries.

This unique cyclical perspective provides clarity as to whether the synchronized upturn in global growth that ECRI predicted in the fall of 2016 – and that the consensus belatedly recognized in 2017 and believes will roar through 2018 – is likely to persist.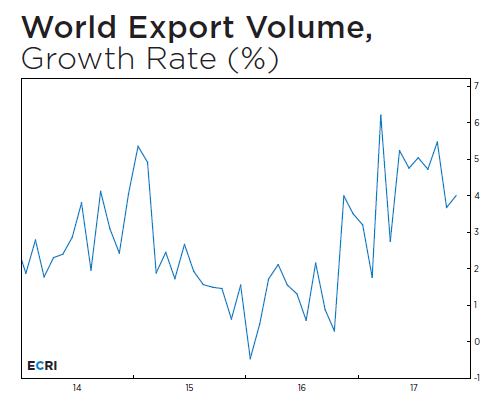 The chart displays year-over-year (yoy) growth in world export volume, which turned down at the beginning of 2015, and remained depressed through 2016, with growth averaging just 1.5% that year. Following our global growth upturn call in late 2016, though, world export volume growth once again surged, rising to just shy of a six-year high by March of 2017. This strength carried on essentially unabated through the summer and into the fall, with export growth averaging 4.5%. However, in the fall, yoy export volume growth turned down and fell to a six-month low, and continues to hover around that low.

A couple of months ago, knowing that industrial weakness in China could severely impact their closest trading partners, and based on our Korean Leading Exports Index, we hoisted a "Red Flag for [the] Korean Exports Outlook."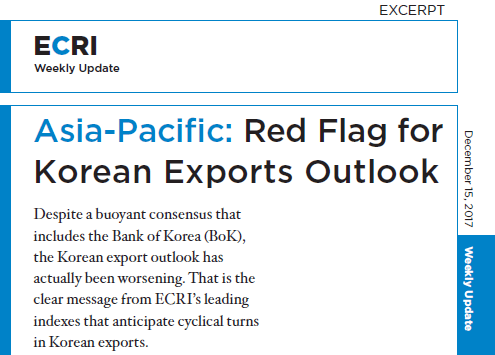 "Sure enough, Korean exports in Q4 2017 experienced their biggest plunge in 33 years" (ICO Essentials, January 2018), even as U.S. imports surged to a record high. With exports accounting for well over half of Korean GDP, the plunge had a dramatic effect on the peninsular economy, whose size rivals that of Canada. With the Korean economy contracting in the fourth quarter of 2017 for the first time since the Global Financial Crisis, the durability of the synchronized global growth upturn still being celebrated by a broad consensus is increasingly open to question.

Click here to review ECRI's track record, including member report excerpts.

For more information on ECRI professional services please contact us.