Fooled by Inflation
Many are misreading the "hard" data as very weak, even as the Fed is set to stay the course on its rate hike cycle, as ECRI had forecast in early February. In her comments following last week's rate hike, Janet Yellen essentially echoed our earlier outlook in saying: "The simple message is the economy is doing well."

Indeed, the year-over-year (yoy) growth rates of both GDP and industrial production have rebounded from their earlier lows (not shown), while yoy nominal retail sales growth soared in January to its highest reading in nearly five years before slipping slightly (not shown). However, it is even more impressive that, despite the increase in inflation, real retail sales growth also remains in a decisive upswing, rising to a two-year high in January before edging down a bit (chart).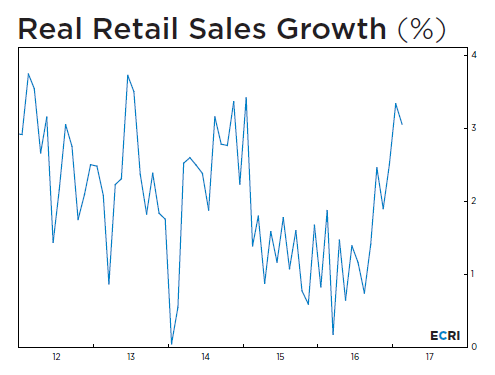 However, real retail sales growth is an exception because the inflation cycle upturn, which we first flagged a year ago, is undercutting some of the "hard" data. Indeed, the inflation cycle upturn is heating up, with yoy CPI growth ramping up to a five-year high of 2.8%, while yoy core CPI inflation hovers near a 7½-year high (not shown). This is a significant change from just a year ago, when headline yoy CPI growth stood at about 1.0%. Consequently, to accurately assess the current economic situation, it is important to recognize how the ongoing inflation cycle upswing is affecting the data.