Food Fight: Food Prices Weigh on Inflation as FIG Keeps Score

The full version of this report was originally released to ECRI clients on Dec 22, 2017 -

In contrast to most analysts, we believe that inflation has its own cycle, and while related to cycles in growth, its turning points can be quite different. This is why we first created the U.S. Future Inflation Gauge (USFIG) which served us well in the non-inflationary growth of the 1990s, and during the deflation scare of the early 2000s. Last year, following its correctly contrarian 2016 reflation call, the USFIG turned down.

Though the Fed targets headline inflation, it often looks to core, which excludes the volatile food and energy components, because it is less "noisy." Consistently throughout 2017, headline CPI inflation outpaced core CPI inflation.

However, the majority of food CPI – food-at-home CPI, which acts as a proxy for grocery-store inflation – has actually been running well below both headline and core CPI inflation. Should this trend persist, it will act as a headwind on overall CPI growth.

Based on our cyclical analysis of inflation, in the summer of 2016, we called for a revival in food-at-home CPI growth. That call has since been vindicated. Indeed, food-at-home CPI growth turned up in September 2016, and exited deflation in March.

We made this forecast by considering broad inflation pressures via the USFIG and the supply chain to see how price changes are transmitted from producers to consumers, with producer price index (PPI) for processed foods and feeds growth standing a step up the chain from food-at-home CPI growth.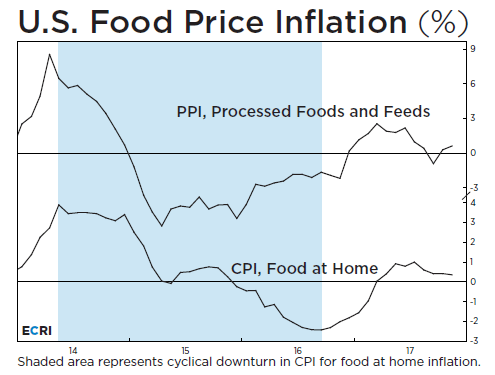 More recently, with the USFIG having peaked in September 2016, broad inflation pressures have turned back down. Following the downturn in the USFIG, foods-and-feeds PPI growth entered a cyclical downswing in March, even briefly dipping into deflationary territory, before ticking up recently (chart, upper panel).

Notably, there is a sequential leading relationship at play here: the USFIG typically leads turns in foods-and feeds PPI growth, with a median lead of almost half a year. In turn, foods-and-feeds PPI growth tends to have short leads over turns in food-at-home CPI growth.

As anticipated by these sequential downturns, food-at-home CPI growth has eased since July, edging down to an eight-month low in its latest reading (lower panel). We will need to see a cyclical revival in the USFIG and then foods-and-feeds PPI growth before we can reasonably expect to see a sustained recovery in food-at-home CPI growth that would help boost overall inflation.

Click here to review ECRI's track record, including member report excerpts.

For more information on ECRI professional services please contact us.