Fed Unfazed by Weak Consumer Spending
Personal consumption expenditures growth disappointed in Q1 2017, as its quarter-on-quarter annualized growth rate was its weakest since 2009, raising concerns about the health of the consumer. Separately, ECRI's U.S. Leading Index of Consumer Spending (USLICS) entered a cyclical upturn in February 2016, anticipating the early 2016 upturns in year-over-year (yoy) real PCE growth (chart, lighter blue line) and yoy real retail sales growth (darker blue line).
Despite a slip in April, real PCE growth is still well above its early 2016 low. Meanwhile, real retail sales growth edged down in April, but remains near January's two-year high.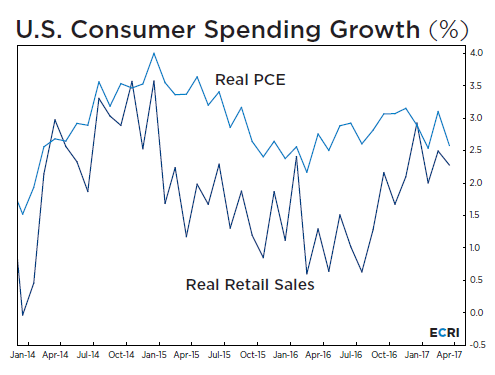 Accordingly, in its recent statement, the Fed maintained that "the fundamentals underpinning" consumption growth are "solid." Consistent with the earlier upturn in the USLICS and the ongoing U.S. growth rate cycle upturn, real PCE growth and real retail sales growth have been in cyclical upturns since early 2016, but with both measures off their recent highs, it will be important to monitor the USLICS in the coming months.