ECRI Indexes Clear Up BoC's Cloudy Export Outlook
Despite strong Q1 GDP growth, the Bank of Canada (BoC) struck a cautious tone in May, stating that it expects "some moderation" in Q2 growth. This follows the BoC revising up its 2017 GDP growth forecast in April, while revising down the expected contribution from exports, which account for one-third of Canadian GDP. Still, the BoC's export outlook remains cloudy, citing "[o]ngoing challenges to competitiveness and uncertainty about [U.S.] trade policy."

ECRI leading indexes provide clarity, especially as it relates to Canadian commodity exports, which make up nearly half of Canada's exports. Indeed, year-over-year (yoy) growth in ECRI's Global Leading Manufacturing Index (GLMI), a short leading indicator of global industrial growth, typically leads cyclical turns in yoy real Canadian commodity export growth, usually by one to two quarters.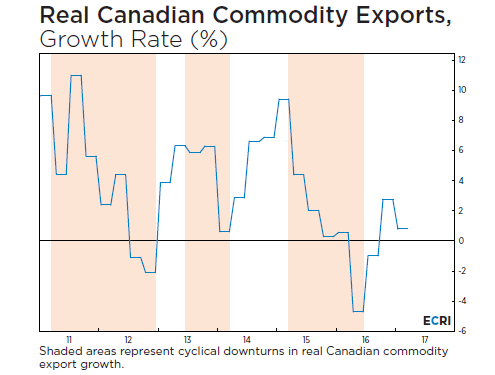 GLMI growth turned up in early 2015 (not shown), anticipating the Q2 2016 trough in Canadian commodity export growth (chart). However, Canadian commodity export growth dipped in Q1 2017. Still, the BoC hopes that "[c]ommodity exports will be supported by firmer commodity prices." The latest updates to ECRI's GLMI and the Journal of Commerce-ECRI Industrial Price Index clarify the outlook for Canadian commodity export demand and prices, and whether the BoC's caution is warranted.