Commodity Exports Plunge a Concern for Australia, with Implications for China
After soaring to an eight-year high in December 2016, Australian commodity export growth has plummeted (chart), raising concerns for Australian and Chinese economic growth. Last year's surge in commodity export growth followed ECRI's earlier forecast that "[Australian] commodity export growth is likely to continue to increase" (EWU, October 21, 2016), in the context of global industrial growth upturn we flagged last summer.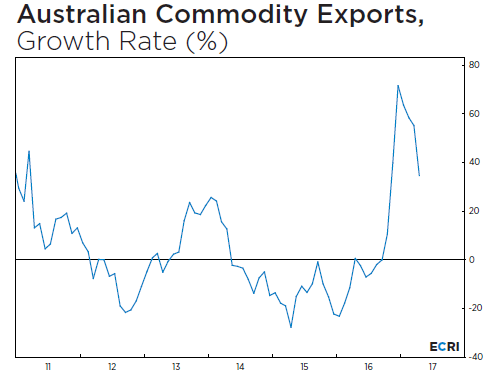 That prescient forecast was based on our Global Leading Manufacturing Index (GLMI), which is designed to anticipate turning points in global industrial production, because demand for commodities is closely tied to the global industrial cycle.

The importance of commodity exports in the Australian economy has increased considerably, with its share of total goods exports rising from about 40% in 2000 to 64% recently. Under the circumstances, the latest update to the GLMI clarifies whether or not Australian commodity exports will continue to be a drag on overall economic growth.

Furthermore, the 2016 spurt and subsequent decline in Australian commodity export growth is also relevant to China, since Australia's commodity exports and China's raw material imports are closely related. Notably, growth in China's raw materials imports has dropped to a four-month low in its latest reading (not shown), suggesting that it is critical to monitor the GLMI, along with ECRI's leading indicators of the Australian economy and global industrial growth, for timely insights into upcoming directional changes in Australian and Chinese economic growth.