Chinese Export Outlook Changes
In November 2016, ECRI predicted that Chinese export growth "is likely to revive further", based on our Chinese Leading Exports Index (CNLExI, ICO Focus, November 2016). Indeed, Chinese export growth has steadily improved, and the March data surprised many as its year-over-year growth surged to over a two-year high. As a result, Q1 2017 real export growth rose again to a nine-quarter high, after returning to positive territory for the first time in nearly two years in Q4 (chart).

Notwithstanding the recent improvement in export growth, the actual level of exports has been in a declining trend since early 2015. In turn, the importance of Chinese exports to its broader economy has declined, with the export share of GDP falling to 19% in 2016 from 35% in 2006.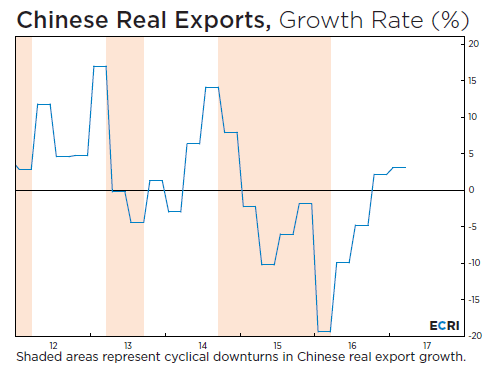 With the twice-a-decade National Congress of the Communist Party of China scheduled for this autumn, the need to maintain economic stability is paramount. And, since the Trump administration hopes to reduce the trade deficit with China, as the U.S. accounts for nearly half of China's total trade surplus, it is of central importance just how sustainable this recent improvement in Chinese export growth is. The latest update to ECRI's CNLExI clearly answers that very question.