China Rate Cut May Have Limited Impact
The People's Bank of China (PBoC) recently made a targeted cut to its reserve requirement ratio, loosening monetary policy, even as the other major central banks have been looking to "normalize" policy by raising rates. With the rate cut intended to stoke business lending and investment, it is instructive to review the current state of Chinese fixed asset investment (FAI) to see how much the PBoC's cut can help.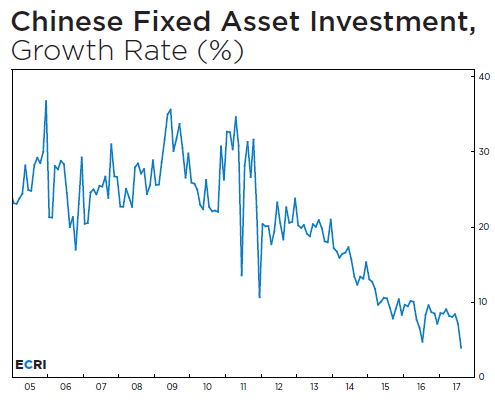 In fact, year-over-year growth in total FAI slumped in August to its lowest reading since the end of the 20th century (chart). A key reason is that growth in infrastructure investment has dropped to an eight-month low, and is not far from a 5¼-year low (not shown). Meanwhile, growth in real estate investment remains close to July's one-year low, and is not far above the record lows plumbed in late 2015 (not shown).

Furthermore, growth in manufacturing investment, which saw a brief revival in the second half of 2016, in line with our global industrial growth upturn call last summer, has since pulled back, and now sits near July's 13-month low (not shown). Once again, this is close to a record low.

Thus, while the PBoC's rate cut is targeted in a way that may boost manufacturing FAI growth, it is less likely to lift infrastructure and real estate FAI growth. With the twice-a-decade National Congress of the Communist Party of China only a few weeks away, the powers that be are looking to keep the economy humming along without a hitch. Though this latest move is not a panacea, an update to ECRI's Chinese leading indexes clarifies whether cyclical forces are poised to buoy the Chinese economy.