China and Global Home Price Inflation
Last December we flagged an upswing in home price growth for commodity-producing economies, in the midst of a global industrial growth upturn that we had predicted the previous summer (ICO Focus, December 2016). Indeed, real home price growth turned up in Australia, Canada and Norway, before easing recently. In China, where the red-hot housing market has only recently started to cool, rapid home price inflation has become a key issue. President Xi Jinping recently underscored that concern in his opening speech at the 19th Party Congress, stating that "houses are for living in, not for speculation."

Of course, China, the largest importer of most commodities, has an outsize influence on commodity-producing countries' overall economic growth prospects, as well as their home price outlooks. Last month, we highlighted the drop in total Chinese fixed asset investment (FAI) growth, with FAI growth for infrastructure, real estate and manufacturing investment all having weakened of late.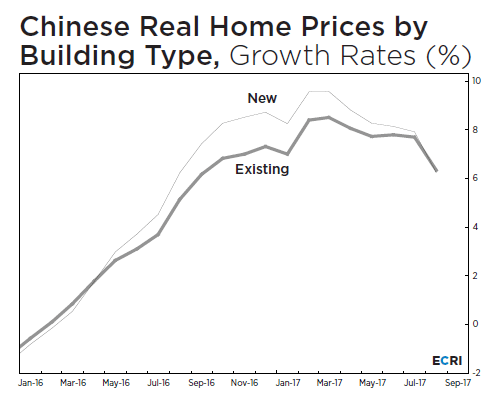 It makes sense that the year-over-year (yoy) Chinese home price growth has declined in recent months. In fact, yoy real home price growth dipped in August to 11-month and one-year lows for existing and new homes in China's 70 major cities (chart, thick and thin lines, respectively). Furthermore, yoy nominal home price growth has already fallen in China's first- and second-tier cities, and has started to slip in its third-tier cities (not shown).

Since housing is a critical component of Chinese economic growth, it is important to discern if home price growth is set to decline further or bottom out soon. Our latest report features an update to our Chinese Leading Home Price Index, which clarifies the outlook for Chinese home prices, and also summarizes cyclical home price prospects for the key commodity-exporting economies.