Central Banks Declare "Mission Accomplished" as Inflation Falls
Central bankers enjoyed their "mission accomplished" moment in late June, given the cyclical improvement in global growth and global reflation, vindicating ECRI's forecasts from last year. Yet, with inflation pulling back in several major economies recently, a real question remains as to whether they declared victory prematurely.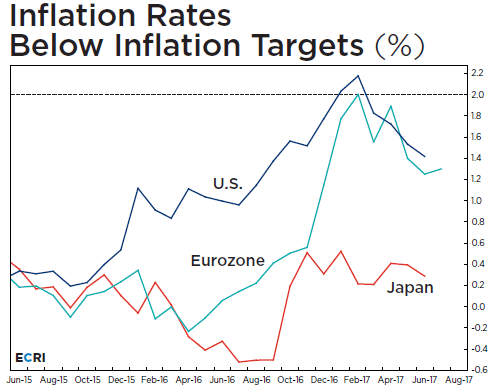 In this context, we show year-over-year (yoy) inflation rates in the U.S., Eurozone and Japan, with the horizontal line marking their common 2% inflation target (chart). It is evident that inflation in every one of these economies has turned down in recent months, having failed to stay above the central bank targets, despite very low benchmark policy rates and massive amounts of additional liquidity.

The U.S. is a case in point. In May 2012, the Fed's designated inflation measure – yoy growth in the personal consumption expenditures (PCE) deflator – slipped below the 2% inflation target announced just four months earlier. In the five years that followed, it has edged above that target for just two months – January and February 2017 – before sinking back below that threshold (dark blue line).

Meanwhile, in the Eurozone, since early 2013, yoy CPI inflation has touched its just-under-2% target once – in February 2017 – and, as in the U.S., turned down in recent months, hovering near a six-month low (teal line).

Japan remains in a class by itself, having experienced stretches of sustained deflation several times in the last two decades. Inflation has stayed well below the 2% target for the past two years, and is now at just 0.3% (red line). This has so discouraged the Bank of Japan that it has now pushed back its estimate of the date inflation will hit its 2% target to 2020.

The key takeaway is that, after peaking early this year, inflation has pulled back in every case. Inflation rates are well below their respective targets, having briefly broken just above them in the U.S. and the Eurozone early this year. And in Japan, inflation is again approaching deflationary territory, after pulling out of deflation late last year. While it is clear that an inflation cycle downturn is at hand for the U.S., our international inflation indicators clarify whether the inflation cycles for the Eurozone and Japan, and indeed the world, are turning down.