When Canada Catches a Cold, so Does the U.S.
The U.S. economic slowdown taking shape follows a Canadian downturn that began earlier. More recently, the Canadian growth slowdown has gathered steam, with quarterly annualized real GDP growth ending 2018 at less than half of one percent. Almost immediately, the Bank of Canada (BoC) mirrored the Fed's January about-face – reversing its January assertion that "the policy interest rate will need to rise over time." The BoC's pivot surprised many, sending the loonie, or Canadian dollar, plunging. It also is a warning on U.S. growth prospects, as all post-war Canadian recessions were accompanied by U.S. recessions.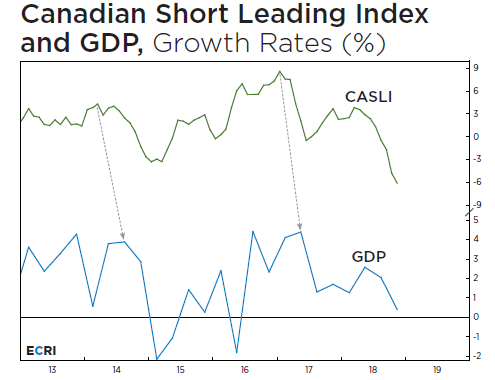 Yet ECRI saw this about-face from the BoC coming because Canadian Short Leading Index growth – shown above as a three-month centered moving average, which leads GDP growth by around a quarter – had confirmed an earlier downswing in Canadian Long Leading Index growth. This led us to alert clients more than half a year ago that "the Bank of Canada (BoC) [had] little room to hike, especially as underlying inflation pressures recede" (EWU, August 10, 2018).

This spells trouble for the loonie, whose historical relationship with commodity prices means the ongoing global industrial slowdown is likely to further depreciate the currency. Though the central bank hopes the global slowdown is temporary and would be "buoyed by the resolution of trade conflicts," its latest minutes were more reticent about domestic personal consumption growth, which has actually fallen to its lowest reading in nearly six years (not shown).

The real question is whether emergency rate cuts – like the two the BoC took out as "insurance" against falling oil prices in 2015 – are back on the table. While nosediving growth in the Canadian Short Leading Index implies that economic data will keep softening for now, we're monitoring our Canadian Long Leading Index and Canadian Future Inflation Gauge, which measures underlying inflation pressures in Canada, for signs of the central bank's next move.

Click here to review ECRI's recent real-time track record.

For information on ECRI professional services please contact us.