Updated: The Simple Math Behind U.S. Potential GDP Growth
An excerpt from our "The Risk of Mistaking Cyclical for Structural" talk given at the Levy Economics Institute's Minsky Conference, April 17, 2018. -
Let's revisit the basic building blocks of economic growth – productivity growth and labor force growth – I showed this chart last year, and just updated it.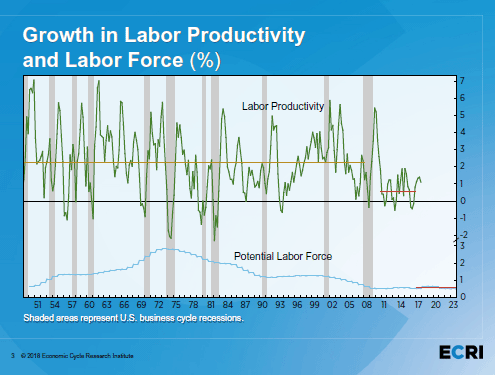 The bottom blue line shows potential labor force growth, which the Congressional Budget Office projects will average around ½% per year for the next six years – shown by the bottom red horizontal line. Labor force growth is pretty much set in stone, given the demographics – unless there's a cut in legal immigration, which accounts for about two-thirds of this number.

The top green line is productivity growth. The six-year average I had shown last year was about ½% per year – that's the top red horizontal line – far below its post-World War II-through-2008 average, which was about 2¼% per year (horizontal gold line).

With four quarters of new data you can see a bit of a pop in productivity growth, which is already easing off. But to my eye, I'd be hard-pressed to call that pop a structural breakout in productivity growth.

The math is straightforward: ½% labor force growth plus ½% productivity growth add up to just around 1% longer-term real GDP growth.
I understand that this is not what any of us wants to hear. The demographics are what they are, so the pushback is necessarily that productivity growth is, or soon will be, much higher.

As a student of the business cycle, again, it's hard to argue that this is a structural breakout in productivity growth.

I understand that plenty of people disagree, so I'll just quote the latest issue of The Economist magazine: "Economists understand even less about economic growth than about business cycles."

Click here to download the full presentation, including notes.

Click here to review ECRI's track record, including member report excerpts.

For more information on ECRI professional services please contact us.