Understanding India's Resilience Despite Multiple Shocks
The full version of this report was released to ECRI clients on Feb. 14, 2018 -
Asked in the early 1990s how the global economy would evolve in the decades ahead, ECRI co-founder Geoffrey H. Moore – "the father of leading indicators" – responded that it would probably experience more cycles, as the number of market-oriented economies grew. This is one reason why ECRI has been developing country-specific composite indexes for decades, helping us monitor cyclical risks for over 20 countries in real time. A case in point is India, for which we created the first leading indexes soon after its economic liberalization.

A key advantage of ECRI's leading indicator approach is its ability to assess economies' cyclical resilience, i.e., whether negative shocks would be recessionary. Furthermore, our approach is neither back-fitted to a specific country's data – which might be very limited – nor reliant on an extensive system of national accounts. These distinctions were vividly demonstrated in late 2016, following the overnight demonetization of 86% of all cash, triggering many recession calls and widespread expectations of an emergency Reserve Bank of India (RBI) rate cut.

But the RBI was unfazed, noting that, because growth in ECRI's Indian Long Leading Index (INLLI) had been "in a clear cyclical upswing … before [demonetization], the economic growth outlook [was] increasingly optimistic, underscoring the economy's resilience to potential negative shocks." The RBI understood that, "from a business cycle perspective … the Indian economy was not vulnerable." Sure enough, in line with our expectations, no recession ensued and the naysayers drifted away.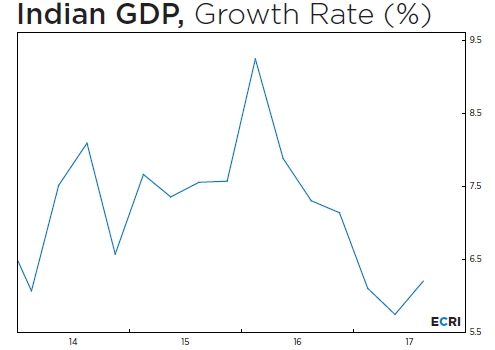 After a brief pullback, INLLI growth perked up in the spring of 2017 (not shown), signaling renewed resilience. So when the economy was hit by another major structural shock in mid-2017 – the introduction of a nationwide Goods and Services Tax – it again shrugged off the blow, and year-over-year GDP growth ticked up in consecutive quarters (chart).

Today, based on the government's high-profile efforts to boost growth, many are optimistic about economic growth. But it is our INLLI that already definitively answers whether such optimism is warranted, and if the Indian economy is positioned to shrug off its next shock.

Click here to review ECRI's track record, including member report excerpts.

For more information on ECRI professional services please contact us.